"The Abandoned Ones" has been featured in many different articles and recognized on multiple different platforms for our rescue efforts, saving animals in danger. We would like to thank everyone for reading/ watching our stories.
Our Founders story featured on "The Dodo".
Woman Goes To A 'Dumping Ground' For Dogs Every Day At 4 a.m. For 10 Years | The Dodo Heroes – YouTube
Our Founders story featured on "Inside Edition".
Meet the Woman Responsible for Rescuing Hundreds of Dogs From 'Dumping Site' Over 7 Years | Inside Edition
Our Founders story featured on "People".
Texas Woman Creates Animal Rescue to Save Hundreds of Dogs Abandoned in the Same Park
Our Founder, Judy Obregon, sharing her story and accepting her Citizen Hero award from ASPCA. 
ASPCA Story on The Abandoned One's
The ASPCA Honors Animal and Human Heroes at the 2017 Humane Awards Luncheon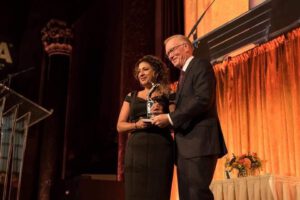 Our Story covered by Star Telegram
https://amp.star-telegram.com/news/local/fort-worth/article233390537.html
NBC DFW Channel 5 coverage on our story
Rescue Group Saves Abandoned Dogs Found in Fort Worth Bathroom – NBC 5 Dallas-Fort Worth (nbcdfw.com)
NBC 5 covering our miracle rescue, Mercy.
Mercy's story caught the hearts and attention of our city. Mercy and our founder, Judy appeared on NBC DFW Channel 5 News to let the community know what had been done to Mercy and what is happening to other dogs Judy finds out at Echo Lake.
Fort Worth Park Known for Dumped Dogs, Animal Cruelty – NBC 5 Dallas-Fort Worth (nbcdfw.com)
Mercy's story, featured by "The Dodo".
https://www.thedodo.com/dog-dumping-rescue-echo-lake-park-fort-worth-2061849514.html
not just once… but TWICE!!!
https://www.facebook.com/DodoImpact/videos/1445486392135116/
A few transformations of our sweet rescue babies